By Cindy
Posted: March 30, 2012
Some components of farm bill legislation were introduced this past week in the Senate, indicating that progress might actually be made this year to get a new bill to replace the one that expires in September.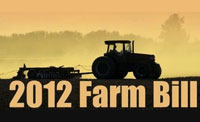 Senators Kent Conrad (D-ND), Max Baucus (D-MT) and John Hoeven (R-ND) unveiled what they are calling the "Revenue Loss Assistance and Crop Insurance Enhancement Act of 2012″ which they say reduces farm program complexity and duplication, strengthens the federal crop insurance program, permanently extends livestock disaster assistance, and would serve as a major component of a new Farm Bill.
The senators say the legislation would maintain a strong safety net for producers and still contribute to deficit reduction. "This proposal complements crop insurance, is much easier to administer than current farm programs, and gives our family farmers the support and flexibility they need to succeed," Senator Conrad said.
Senator Baucus says the concept is one that agriculture interests have indicated they will support. "This bill is written with the direct input of the farmers and ranchers out there getting dirt under their nails every day to keep food on our tables," he said. "I look forward to working with our colleagues to roll these priorities into a larger Farm Bill we can all be proud to support."
In other action, Senators Tom Harkin (D-IA), Kent Conrad (D-ND), Amy Klobuchar (D-MN) and Al Franken (D-MN) introduced legislation to reauthorize and fund the primary energy programs included in the current Farm Bill. The Rural Energy Investment Act would include a mandatory total of $1.275 billion over 5 years to strengthen the biobased markets program, fund the Biorefinery Assistance Program, reauthorize and fund the Rural Energy for America Program (REAP) and more.
"We can and we must transition to cleaner, more sustainable energy systems, and rural America will play a crucial role in this transition," said Sen. Harkin. "As we are formulating the next farm bill, it is even more critical that we include strong programs that encourage production and use of biomass feedstocks for advanced biofuels and biomaterials, as well as assisting farmers and ranchers with adoption of energy efficiency and renewable energy technologies to replace their aging energy systems."