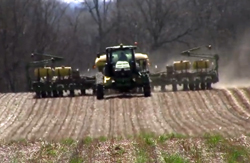 The 2015 corn crop has barely begun to be planted but it already has its own Facebook page.
The U.S. Grains Council (USGC) launched the new Facebook page - Growing the 2015 U.S. Corn Crop - as a direct channel for communication between farmers and overseas customers about the condition and quality of the 2015 U.S. corn crop, according to USGC Chairman Ron Gray.
"This page helps illustrate this year's theme of Global Awareness, Global Connections," said Gray. "We are more globally connected than ever, and we are constantly looking for ways to use modern communications tools to build the connections between our farmers and their customers around the world."
All U.S. corn farmers and international customers are invited to like and post on the page, and include regular updates on the progress of their corn crop with photos or videos and commentary.
Some farmers were busy last week in the fields, but most were not according to the latest USDA crop progress report. As of April 12, just two percent of the corn crop was planted, compared to three percent this time last year and five percent on average. The only states making progress right now are Kansas, North Carolina and Texas, with Kentucky, Missouri, Ohio and Tennessee gaining a little ground.