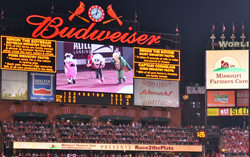 The St. Louis Cardinals' new roster this season includes some homegrown talent from the Show-Me State.
Missouri Farmers Care (MFC) and the St. Louis Cardinals are proud to bring to Busch Stadium the Farm Team, comprised of mascots Captain Cornelius, Simon the Soybean, and Sweet Bessie.
The farm team is part of the "Race to the Plate" educational campaign to increase awareness and understanding of today's food production.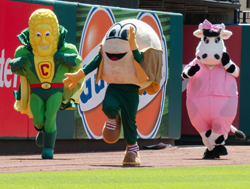 The mascots will be jockeying for bragging rights at each Friday night home game in Busch Stadium and racing to educate fans on Missouri agriculture. As the mascots vie for the win, in-stadium video boards will highlight facts about modern pork, dairy, soybean and corn production. Missouri's farm families are also encouraging fans tuning into Cardinal Radio to learn more about today's agriculture through radio spots highlighting farm facts and Friday night races. Print ads are also featured in the Cardinals Gameday Magazine and scorecard.
Missouri Farmers Care is a joint effort by Missouri's agriculture community to stand together for the state's top industry.