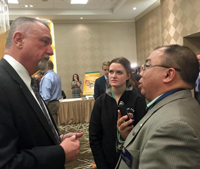 Members of the National Association of Farm Broadcasting (NAFB) were on Capitol Hill last week talking with lawmakers, administration officials, and industry organizations about topics important to agriculture, and the National Corn Growers Association was happy to once again be part of that event.
NCGA Executive Vice President Jon Doggett, Public Policy and Regulatory Affairs Manager Clint Raine, and Director of Public Policy Zach Kinne addressed several different topics with farm broadcasters from around the country.
Doggett talked about the current situation with the Renewable Fuel Standard (RFS) and the timeline recently announced by EPA to release long overdue volume requirements for biofuels. "We won't have the numbers until we have the numbers," said Doggett. "We need to get this done right away and I don't know that people are necessarily believing what EPA says, I think we're going to have to wait and see what they do."
Listen to the interview with Doggett conducting by Agri-Pulse reporter Spencer Chase: Interview with Jon Doggett, NCGA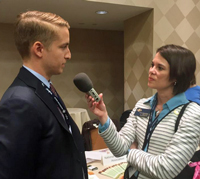 Raine discussed NCGA's comments to the Federal Aviation Administration on Unmanned Aerial Systems (UAS) for agriculture. "I think there were about 40,000 comments that were actually submitted," said Raine. "But I think we're looking at another 16 months until that final rule comes out."
Raine says NCGA says unmanned aerial systems offer great potential for farmers, and will ultimately reduce costs, improve efficiency, and make farming operations more sustainable, but there are privacy issues. Interview with Clint Raine, NCGA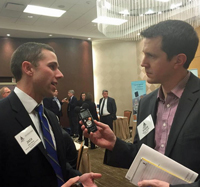 Kinne's area was biotechnology and specifically the recent announcement from the European Union that they would allow member nations the option to ban imports of biotech food and feed. "It would really just be a nightmare when you look at the supply chain and importing of the crops that we produce," he said. At the same time, NCGA is encouraged by the EU's approval last week of 17 biotech traits for import. "It's a little hard to applaud them for not making a decision since 2013 but some of those approvals are corn events," said Kinne.
In this interview, Kinne also discusses the Safe and Accurate Food Labeling Act. Interview with Zach Kinne, NCGA