By Cindy
Posted: February 25, 2008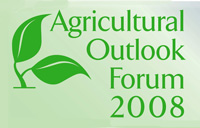 Biofuels were in the spotlight last week at USDA's 2008 Outlook Forum with the theme "Energizing Rural America in the Global Marketplace."
The opening plenary session included Paul Schickler of DuPont/Pioneer Hi-Bred and Bob Dinneen with the Renewable Fuels Association, who made up half the panel talking about biofuels and new technology increasing yields to meet the demand for both food and fuel.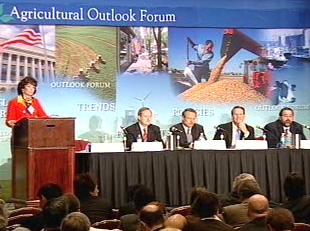 "The rapid advances in productivity, technology and innovation are contributing to remarkable productivity increases," said Schickler. "World production of corn (since 1991) has progressed right along with the rapid increase in consumption and the reason is that corn yields have increased over that same period by 30 percent."
Schickler noted that in the last decade the world population has increased 13 percent, income has increased 35 percent, meat consumption has increased 25 percent, corn consumption is up 32 percent and soybean consumption is up 52 percent … but total global crop area harvested has only increased by four percent.
He called it "remarkable" and it truly is. Here is a link to Schickler's presentation in pdf form.
Dinneen said we need to make sure we are doing everything possible with biotechnology to develop new varieties to increase crop production. "We are going to get to 200 bushels per acre far sooner than anyone believes that we will," he said.
"We will not have food security in this country unless and until we have energy security," said Dinneen.
Watch the entire plenary panel session on USDA's website.
There was also a panel focusing specifically on sustainability of ethanol with presenters including Dr. Mark Stowers of POET and Rick Tolman of National Corn Growers Association. (The links will take you to their presentations.)