By Cindy
Posted: February 27, 2009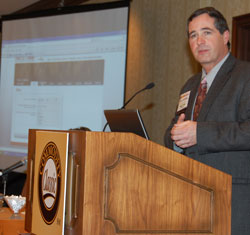 Farmers will soon have a new tool to analyze their natural resource use and key crop production inputs, introduced this week at the Commodity Classic by Field to Market, The Keystone Alliance for Sustainable Agriculture.
The Fieldprint Calculator was developed with input from a diverse group of grower organizations, agribusinesses, food companies, economists and conservation groups, to help farmers evaluate natural resource use on their operation compared to industry averages. These measures could help improve production efficiencies and profit potential.

The calculator will be available at www.fieldtomarket.org beginning March 15 for grower testing and feedback.
"Sustainable agriculture must make sense economically as well as environmentally or it's not sustainable," said Doug Goehring, who grows corn, soybeans and wheat in North Dakota. "This calculator will help producers understand how they're being sustainable on the farm today, while providing insight into for future improvements that can benefit the environment and our bottom line."
Watch Doug demonstrate the Fieldprint calculator here: