By Cindy
Posted: October 28, 2009
As the battle for biotech crops continues in many countries, including Africa, a recent study finds that improved corn varieties have made a significant impact on reducing poverty.
According to an article published in Agricultural Economics, a multi-country study documents the significant role international maize research plays in reducing poverty. It finds that since the mid-1990s, more than one million people per year have escaped poverty through the adoption of new maize varieties.
Key economic benefits from maize research are primarily the result of the productivity gains farmers experience after adopting modern varieties. While notably scant prior to the 1980s, the percentage of MVs found in a maize area grew from 5 % in the 1970s to 60% in 2005. The study results suggest that without research to maintain or increase maize yields, poverty in the region would be substantially worse.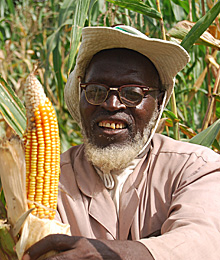 Googling around for more information on African maize production, I found this story on the Alliance for a Green Revolution in African (AGRA) website that tells the story of Able Traore, a West African farmer who started using modern seed varieties on his small farm two years ago that have increased his yields by 50 percent. "If I had known what I know now, I would not have left the country for any other place. I wish that all my kids become farmers. Farming is the most pleasant job you can do in Mali," Traore says. How true is that?
Of course, it's not just better, higher yielding varieties that will continue to help Africans feed themselves. It is also access to more modern farming methods, fertilizer and inputs. As the AGRA website states: "We know that through dramatic improvements to agriculture, prosperity can replace poverty. In most modern economies, no lasting success has been achieved without first building a strong agricultural foundation." True again.
No doubt that much of the credit for the improvement over the past 30 years in Africa must be given to the late Dr. Norman Borlaug. In 1986, Borlaug began working with the Sasakawa Africa Association, which aims to defeat malnutrition and poverty in Africa. At a memorial for Borlaug earlier this month, Yohei Sasakawa promised to carry on Borlaug's dream that African children would someday not have to go to bed hungry. "You cultivated a dream that would empower the farmers, you planted the seeds of hope, you watered them with enthusiasm, you gave them sunshine, you inspired with your passion, you harvested confidence in the hearts of African farmers," he said. Amen.