By Cindy
Posted: February 25, 2010
Corn growers all over the country are preparing for the 2010 Commodity Classic next week in Anaheim where important policy issues facing farmers and ranchers will be discussed.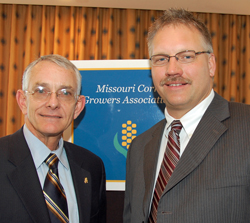 Members of the Missouri Corn Growers Association got in the mood this week by holding their annual meeting in Jefferson City and going to talk with state lawmakers about the importance of keeping agriculture in the hands of farmers. National Corn Growers Association president Darrin Ihnen (right) was guest speaker at the Missouri luncheon. With him pictured is Mike Geske, former president of the Missouri Corn Growers now serving on the 15-member National Corn Board.
I interviewed both Darrin and Mike about some of the issues important to growers right now and topping the list is the threat posed by the Humane Society of the United States (HSUS), which is in the process of working up a petition drive in Missouri directed at dog breeders - lumping them all in the unsavory category of "puppy mills" - kind of like they lump all of agriculture under "factory farming." Mike says that is why all agriculture groups in the state are working to keep legislators informed about how food is produced and the importance of the industry to Missouri. "We feel that once they get past the dog breeders they are going to be headed for commercial agriculture," he told me.
Darrin says the threat posed to animal agriculture in individual states by groups like HSUS ultimately impacts all of agriculture across the country. "It's very important that we help defend them," Darrin says. "We can't be separated when it comes to agriculture. We need to work together."
This is just one of many important policy issues that corn growers will discuss at Classic next week, the annual meeting that also includes soybean, wheat and sorghum producers. Others include the indirect land use issue, climate legislation, increasing the ethanol blend rate and extending the blender's tax credit for ethanol.
Listen to back to back interviews with Darrin and Mike here: