By Chuck
Posted: August 9, 2010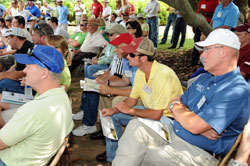 Last week's Conservation in Action Tour in Virginia included several farms where Chesapeake Bay area farmers have a rich history of good conservation practices, most notably no-till. In fact, many farms in the area have been in continuous no-till for decades! The tour is conducted each year by the Conservation Technology Information Center. I participated and spoke with Wayne Kirby, Virginia corn farmer and Chairman of the Virginia Corn Board. Wayne says a lot of people are interested in agriculture in their area and especially what's happening with the Chesapeake Bay restoration effort.
The restoration effort is very important to corn growers since regulations and policies are being set that have direct impact of farming. Wayne says corn growers been working diligently to improve their production practices and the tour provided an opportunity for them to show what they're doing to other farmers as well as farm policy makers who also participated. In my interview with him he describes how much of what area farmers are doing is not being taken into account in the models used for watershed management.
You can download (mp3) and listen to my interview with Wayne here: