By Mark
Posted: September 30, 2010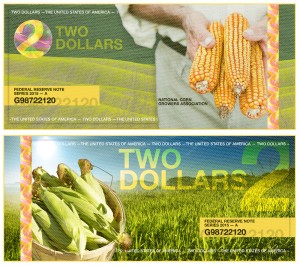 A freelance designer from New York City took a decidedly rural perspective when submitting his design idea for potential new looks for US currency. Lu Tapuch chose to put corn prominently in his design for a new $2 bill.
The "Campaign to ReDe$ign the US Dollar" appears to be an independent effort to collect cool designs for money as well as more than 1 million signatures to bring the efforts attention to the White House and perhaps give us a  new cool or trendy look to our moolah, cabbage, scratch, greenbacks, dough…you know… macaroni.
Promoters say the American Dollar has not truly been redesigned since about the 1930s. "With 'the economy bottoming out,' we believe it's time to go back to the drawing board and 'start from scratch. Why? A piece of currency is 'the ultimate symbol.' At its best, a banknote distills a country's vision, values and the heritage that make it unique. 'A more transparent, rational financial system deserves money that looks the part. With our financial system in crisis, the time is right to redesign the currency of the United States."
 Interesting idea, but I have to admit to being a little uncomfortable with corn being on a $2 bill after US corn prices sold for that lowly amount per bushel almost without exception for two decades. Whoah, bad flashback! 
 You can take a peek here if you are interested in submitting your own design.