By Chuck
Posted: July 11, 2012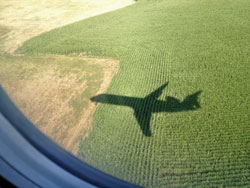 This is not a Delta commuter jet doing aerial application on this corn field. No, it's just why I like to have a camera on me at all times. Just that random, "that looks like it might be a cool photo" shot. This is our plane landing in Bloomington, IL today. You can click on the photo for a larger version.
I'm in the area for the Conservation Technology Information Center Indian Creek Watershed field tour. Hopefully, we'll find some great corn conservation stories to share!