By Cindy
Posted: October 30, 2012
Grain buyers from around the world at the recent 2012 Export Exchange had the opportunity to hear directly from U.S. farmers themselves about the impact of the drought on the 2012 crop through a producer panel during the opening general session. Among the panelists was Ron Gray, an Illinois farmer and Secretary/Treasurer of the US Grains Council.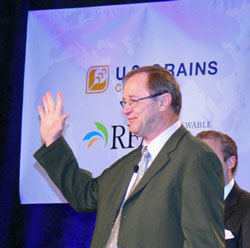 Gray related how this season got off to a great start but quickly went downhill due to lack of rainfall, resulting in a severely diminished corn crop. "Our farm probably averaged 50 bushels an acre, which is approximately 1/3 of our normal production. The rainfall did come later and the soybean crop is a fairly good crop, but the corn crop was devastated," Gray said.
However, Gray notes that "hope springs eternal in the farm community" and farmers are forging ahead with optimism in 2013. "That will mean it's not 2012 anymore and that will be a good thing," he said, pointing out that most farmers who had crop insurance this year will be in good shape for next season.
His take home message for international grain buyers was that U.S. corn and distillers grains will still be available for the export market. "We do have quality product available," he said.
Listen to Jamie Johansen interview Ron at the Export Exchange: Ron Gray Interview
You can find photos from this years Export Exchange here: 2012 Export Exchange