By Cathryn
Posted: January 15, 2013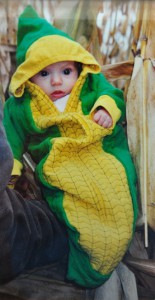 Corn farmers might be wise to take a cue from a certain sector of their counterparts in traditional business sectors and learn the value of expectations management.
In 2012, farmers felt the brunt of their own success as, after years of continually pushing the boundaries of how much they could grow using fewer resources, a massive drought hit the Corn Belt hard. Fields of young corn plants, the beginning of what many anticipated to be a record corn crop, withered in the relentlessly dry heat. Corn production powerhouses, including Illinois, Iowa and Indiana, found their crop would not meet initial projections.
For their inability to (literally) make it rain, these farmers faced massive cries from media outlets' sensationalized stories. Ever vigilant in their quest for higher ratings, many journalists eschewed responsible research in favor of "commonsense" commentary, crying over and over that consumers would be shocked when they saw their grocery bills come fall.
From their self-claimed moral high ground, media mercenaries lobbed a frenzied attack. Will Americans starve to feed their cars? Should draconian rationing measures be instituted? Were the Mayans right?
With the USDA's annual crop reports released, a clearer picture of the 2012 crop is forming. Corn farmers, who faced a serious adversary in Mother Nature, managed to grow 10.8 billion bushels of corn. No, the crop did not break all previous records, but it made the top ten lists.
Despite the worst drought since the Dust Bowl, farmers raised the eighth-largest corn crop since the United States started keeping records. Through better seed varieties, developed through biotechnology, improved practices and cutting-edge technology, our nation's corn farmers fought back against Mother Nature's assault.
They struck major blows at key times. Iowa took the front despite the drought, growing 1.87 billion bushels of corn. Minnesota and Nebraska stepped up production and buttressed the crop, growing 1.37 and 1.29 billion bushels respectively. Even Illinois, who saw their normally chart topping yields shrivel in the sun, made a major contribution to the nation's overall totals, producing 1.28 billion bushels.
The lesson therein? Corn farmers fell victim to their own success in 2012. While striving to produce even more bounty year after year, their achievements became commonplace. Thus, when these over-achievers faced a natural disaster, their efforts were met with backlash instead of understanding support. When their fields suffer, farmers suffer. Yet, this fact was largely ignored.
The eighth-largest corn crop on record does not generate the sort of excitement that a record-breaking harvest may have. It does show the strength and reliability of U.S. farmers. Even in the face of a drought that would have decimated the crop only decades ago, they succeeded in providing a top ten crop. Expectations placed upon America's farmers have obfuscated the triumphs of 2012.
Sadly, it is a story that deserves telling. Though neither glamorous nor sensational, U.S. corn farmers can provide a dependable abundance that Americans can count on for food, feed, fuel and fiber. Maybe this does not make a headline, but it does provide for a secure tomorrow. That's an expectation farmers are proud to meet.