By Cindy
Posted: July 31, 2013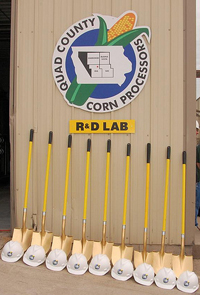 Despite what the critics have to say, commercial cellulosic ethanol is already a reality and the fastest pathway is by getting more from traditional corn ethanol.
The latest achievement is the groundbreaking of a new cellulosic "bolt-on" ethanol plant in Galva, Iowa. Quad County Corn Processors Cooperative general manager Delayne Johnson says the Adding Cellulosic Ethanol (ACE) project will increase their production capacity by utilizing more of the corn kernel. "We get six percent of additional cellulosic ethanol out of a kernel of corn," said Johnson of the new technology, which equates to another two million gallons of ethanol per year from the 13-year-old farmer-owned facility.
The technology has the potential to be adopted by other corn ethanol plants. "If implemented industry-wide, ACE will be able to create an additional two Billion gallons of cellulosic ethanol on an annual basis," Johnson said. Delayne Johnson, Groundbreaking Remarks
Congressman Steve King (R-IA) was on hand for the groundbreaking event. "I have consistently said we should work to add value as close to the corn stalk as possible and that is exactly what is happening in Galva," said King. "They have found new ways to squeeze even more out of a bushel of corn and this is paving the way for new technology both here in Iowa and across the country."
Visit the Quad County Corn Processors "ACE" Groundbreaking photo album here.