By Cindy
Posted: March 13, 2014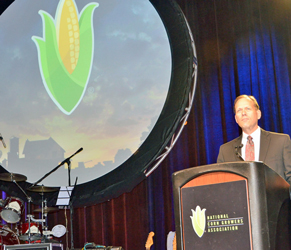 National Corn Growers Association (NCGA) CEO Rick Tolman had bushels of great corn farmer news to share at the recent Commodity Classic about what the organization has done in the past year and what is happening now. We have since learned that this was the last Commodity Classic for Rick, as he has announced that he will be retiring at the end of September to enjoy more family time. He will surely be missed after 14 years of service to NCGA, but his retirement is well-deserved.
One exciting bit of news Rick announced at the NCGA banquet was that the Smithsonian Institution wants to put the Corn Farmers Coalition DC metro campaign ads in a new exhibit. "Those ads have been very iconic," he said. "The Smithsonian Institution is doing a new exhibition called "American Enterprise" and they contacted us and said they really liked them because they're about education, not about selling."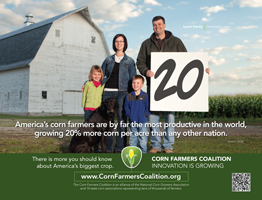 The ads have been featured in the Corn Farmers Coalition annual campaign which takes over every ad space in a single DC metro station for two weeks, a campaign that has been running for five years now.
The Smithsonian will include the ads in a new permanent exhibit scheduled to open next year in the Museum of American History. "It will last for 20 years and we anticipate about 90 million people seeing it," Rick said.
In this interview on the final day of Classic, Rick also talks about the great corn grower response last year to commenting on the EPA proposal to gut the Renewable Fuel Standard (RFS) and how NCGA plans to keep that momentum going. Interview with Rick Tolman, NCGA CEO