By Cindy
Posted: March 17, 2014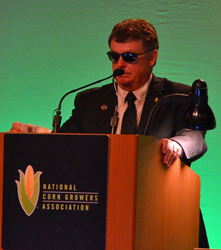 Martin's got to wear shades.
That was National Corn Growers Association president Martin Barbre looking like a rock star at the final Corn Congress session of Commodity Classic. Not by choice, he actually broke his regular glasses the night before and had to wear his prescription shades to read.
But, Martin really does think the future is bright for corn farmers and agriculture in general, especially now that we finally have a finished farm bill and NCGA has reached a new membership record of 40,287 as of the end of February.
Two initiatives Martin is especially excited about right now are the Coalition for Safe Affordable Food (CFSAF) and the Soil Health Partnership.
"There's no doubt that GMOs have become a hot button issue in recent years," he said of the CFSAF, which advocates a federal solution that would establish standards for the safety and labeling of food and beverage products made with genetically modified ingredients. "We're just getting the coalition together and getting a game plan together and when we do we'll start moving forward."
The Soil Health Partnership has the support of Monsanto and the Walton Family Foundation and relies on a science advisory council made up of government and university experts as well as environmental groups. "These are just examples of the coalitions we've been able to work on."
Martin is even optimistic about the number one policy issue facing NCGA this year - protecting the Renewable Fuel Standard (RFS). "We're proud of the grassroots action we saw on the part of our nation's corn farmers" to get thousands of comments in to the EPA on the proposal and thousands of calls to the White House. "We don't know when the decision will come down or what it will be but we know we've done our part and we'll continue to keep pressure on the administration."
Martin talked about these issues and others in the following audio segments:
Interview with Martin Barbre, NCGA president
NCGA president on the Classic stage
NCGA Press Conference with Martin Barbre