By Cathryn
Posted: March 19, 2014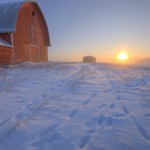 From the Midwest to the Mid-Atlantic, the long, cold winter has taken a toll on the spirits of people from all walks of life. From commuters sick of slugging away in traffic during snowy commutes to parents worn down by a barrage of weather-related school cancelations, winter's death grip on much of the country seems to be firmly clenched as spring rapidly approaches.
For farmers, another concern looms on the horizon. While, like everyone else, they feel the physical and mental toll of the long, dark winter, many also see what may be a frantic late spring as deeper-than-normal frost level and below-normal temperatures will likely delay planting from the western Midwest to the Northern Plains. Soggy fields drenched in melting snow could spread the planting problems to the eastern Midwest too, according to DTN Senior Meteorologist Bryce Anderson.
What will happen when winter finally gives way may be pure speculation but predictions of frenzied planting seem a likely prospect. The work may be hard, with planters running late into the night, but know that America's corn farmers are up to the task. Using modern technology, such as planters that can cover ground quickly and seeds that can reach maturity despite delays, American agriculture stands ready to roll as soon as winter's icy claws loosen their hold.
For now, we all wait for a much-anticipated spring together. When it comes, Americans can enjoy the warm rays and relax knowing farmers will be hard at work preparing a crop to get them restocked with food, feed and fuel for the year to come.
National Corn Growers Association members can get a head start planning for planting by using the FMC Weather Advisor Benefit. Offering the latest scientific information regarding outlooks for temperature and precipitation, this valuable service shines a ray of light on how weather conditions will impact farms across the country over the weeks and months to come. So, get insider insight today that will help plan for tomorrow by clicking here.