By Cindy
Posted: May 16, 2014
USDA is calling for record corn and soybean crops in the first outlook report for the 2014-2015 season. Chief economist Joe Glauber says corn production is forecast at just a little bit more than last year's record crop with higher expected yields more than offsetting a reduction in planted area.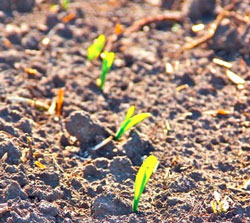 "What would be a record yield at 165.3 bushels per acre," he said. Glauber says they are also expecting higher ending stocks but lower prices compared to this year. "I think we're looking at a season average corn price of around $4.25, which I might add is higher than what we were carrying back at Outlook Conference when we were thinking prices would potentially be below $4, but still down 10% from this year."
USDA is also forecasting a record soybean crop for the U-S at 3.635 billion bushels and record global production.
Of course it all depends on the weather, but USDA meteorologist Brad Rippy says Mother Nature helped corn planting seriously pick up the pace last week. "For just the single week ending May 11, we saw 30% of the U.S. corn planting during that seven day period," he said. "The overall progress by May 11 reached 59%, that is now ahead of the five year average and more than twice last year's pace."
"All it takes is good weather, good equipment and long hours for our farmers to be able to catch up," said NCGA President Martin Barbre. Out in front is Iowa with nearly half the state's corn acreage was planted last week, with the state going from 23 percent to 70 percent planted. Some states however, such as North Dakota, are still lagging behind at 3 percent, with Michigan and Wisconsin following at 20 percent.
Meanwhile, corn emergence also continues to catch up, with 18 percent of the crop now emerged, compared to the five-year average of 25 percent.