By Chuck
Posted: June 20, 2014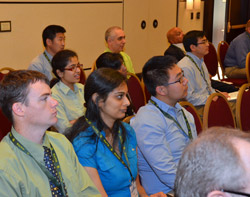 One of the platinum sponsors for this year's Corn Utilization Technology Conference is Dupont Pioneer. Speaking on "Precision Ag to Decision Ag" was Joe Foresman, Director - Services Americas at DuPont Pioneer. That's an interesting talk title since we hear a lot of discussion about the volume of data being collected in precision agriculture today and a lot of questions about what to do with it.
Joe was on the program to talk about rolling out Encirca Yield, a new feature from the suite of Encirca Services. He says, 'We are going to be featuring nitrogen and seed management in this offering. With Encirca, we are going to provide tailored, brand neutral whole-farm solutions with an advisor for farmers. This will allow us to move away from just the maps to actually developing new management zones in the field."
Encirca is a crop observation tool that a farmer can download from the Apple Store or Android Marketplace.
Listen to my interview with Joe and learn more about Encirca here: Interview with Joe Foresman