By Cindy
Posted: June 20, 2014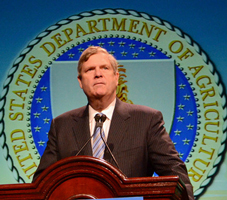 Agriculture Secretary Tom Vilsack was in Europe last week meeting with agricultural and trade officials and about the importance of agriculture's role in the U.S.-European Union (EU) Transatlantic Trade and Investment Partnership (T-TIP). He started the week in Brussels by meeting with 28 agricultural ministers and representatives from the EU.
"I wanted to emphasize the opportunity and the necessity that agriculture has got to be a significant part of whatever the trade discussions ultimately end up being with T-TIP," said Vilsack. "I was very candid with my colleagues that absent a real commitment to agriculture in this trade agreement it would be very difficult for Congress to get the votes to pass T-TIP."
Vilsack said among the challenges related to agriculture in the agreement are tariffs, non-tariff barriers, sanitary and phyto-sanitary issues, biotechnology, regulatory simplification, pathogen reduction, and geographic indicators.
Ultimately, Vilsack believes there are more similarities than differences between the United States and Europe. "We have a common goal, which is expanding markets, and we have a common language when it comes to dealing with these difficult issues and that common language is science," he said.
In addition to Brussels, Vilsack visited with officials in Luxembourg, Paris, and Dublin.
Vilsack press call from Brussels