By Chuck
Posted: July 10, 2014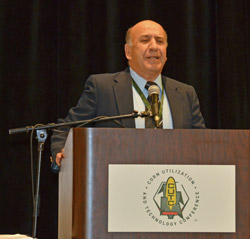 More and more research is being done on biological control of all forms of pests including in the agricultural market. Dr. Hamed Abbas, USDA, talked about "Bioplastics Made from Corn Starch as an Effective Biological Delivery Vehicle for Control of Agricultural Pests" at the recent Corn Utilization Technology Conference. Here's another example of a new use for corn starch.
Before he got started I asked him to explain how bioplastics play a role and provide examples of the form they take. He says bioplastics make an excellent delivery system for biological controls. The beneficial fungus used in biologicals love bioplastic because it provides them with nutrition and it has longer shelf life.
Listen to my interview with Hamed here: Interview with Hamed Abbas