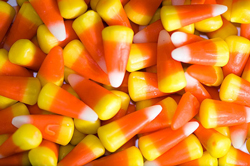 At the same time of year when combines are running in the corn fields, billions of kernels of candy corn are being popped in mouths around the country.
That's right, I said billions. According to the National Confectioners Association, 35 million pounds of candy corn are sold around Halloween, which is approximately 9 billion individual kernels of corn. That's kind of scary!
Candy corn has been around for more than 100 years. George Renninger, an employee of the Wunderlee Candy Company, invented the popular confection in the 1880s and Wunderlee became the first to produce the candy. The Goelitz Candy Company (now Jelly Belly Candy Company) started producing the confection in 1900 and still produces candy corn today.
The main ingredient in candy corn actually is corn - corn syrup, that is. And the NCA points out that it was first made when most of America was still farming country. They don't know if it was the fact that so many Americans had farm experience at that time, if urban dwellers found it charming or if it was some combination that made it so popular, but people went nuts over it.
And today, October 30 is National Candy Corn Day, so enjoy some of the sweet, tri-colored treats to celebrate - but save some for the trick-or-treaters!