By Cindy
Posted: November 9, 2014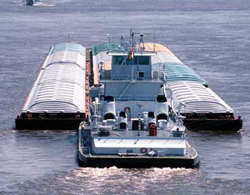 The U.S. Department of Agriculture has released its final total for fiscal year 2014 agricultural exports and they are indeed a new record.
"It's a big record, too," said USDA chief economist Joe Glauber. The final tally was a big $152.5 billion, an increase of $11.5 billion or eight percent from last year's record $141 billion.
Soybean exports topped the charts for value, at $24 billion, but corn beat out beans in volume with 50 million metric tons - a 156 percent increase over 2013. And value was up significantly as well. "We're up almost 99 percent over last year at $11.1 billion," said Glauber. "Corn rebounded dramatically … a lot of that was the huge increase in volume." The rebound of course was from the 2012 drought which cut exports significantly.
The top destination for U.S. corn exports was Japan, which accounted for almost 25% of the total volume, while number two Mexico took about 20% of the total. South Korea came in third, with Columbia and Egypt rounding out the top five. Egypt imported nearly 2.9 million metric tons of U.S. corn in the last year, up from zero the previous marketing year. China, which was the overall number one destination for agricultural exports in 2013-14, came in sixth on the list for corn.