Posted By Cindy February 26, 2009
The first Obama budget announced today would end direct payments for farms with large sales and incomes that receive a disproportionate amount of the payments, according to Agriculture Secretary Tom Vilsack speaking at USDA's Annual Ag Outlook Forum. According to Office of Management and Budget Director Peter Orszag, the president is "proposing to phase out those payments over time for farms with revenue of more than $500,000 a year."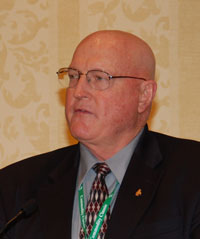 With that announcement coming out as the 2009 Commodity Classic was getting underway, it was the first question that came up during a press conference with National Corn Growers Association president Bob Dickey, a grower from Nebraska, who says they are very concerned about that statement but they need to examine the proposal closer.
"I can tell you that we will take a strong stand to defend out corn producers," Dickey said. "We do have policy on that and we will defend our policy."
The budget would also support the implementation of a 250-thousand dollar commodity program payment limit and reduce crop insurance subsidies.
On the plus side, Obama's 3.55 trillion dollar budget for fiscal year 2010 would provide over 20-billion dollars in loans and grants to support and expand rural development activities and make investments to double the nation's renewable energy capacity.