Posted By Cindy February 26, 2009
Despite the economy, the farming community has turned out in droves for the 2009 Commodity Classic in Grapevine, Texas this week.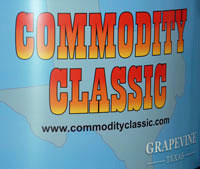 This is the first Classic to feature four commodities under one roof - corn, soybeans, wheat and now grain sorghum. Pre-registrations were almost the same as last year with more farmers registered than ever before.
The theme of the 14th Annual Commodity Classic is "Discover Bright Horizons" and features educational sessions on topics such as managing risk, energy independence, farm finances and nitrogen strategies.
There are so many events going on at the Classic that it's hard to keep up. Committee meetings, state caucuses and policy discussions are being held in nearly every room of the Gaylord Texan Resort in Grapevine. The sold-out trade show is the largest in Commodity Classic history, with more than 230 companies in more than 940 booths.
The weather is sunny and the mood is upbeat here in the Lone Star State - no economic crisis here!