Posted By Cindy May 28, 2010
If you thought Indirect Land Use Change (ILUC) was a crazy and unprovable theory, now ethanol is being challenged by something even crazier - the Global Rebound Effect.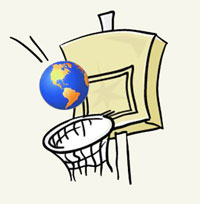 The Clean Air Task Force has filed suit against the Environmental Protection Agency over the Renewable Fuel Standard for failing "to account for the "global rebound effect" when analyzing the lifecycle greenhouse gas emissions from biofuels."
It is doubtful that a truly sane person could put any credence in this theory, which goes on the assumption that, "By displacing some gasoline from the US market, the RFS reduces overall demand for petroleum, which in turn leads to lower prices, increased consumption, and higher greenhouse gas emissions in other countries. If EPA had considered the "global rebound effect" in its analysis of different biofuels, only a few of those fuels would have met Congress's emissions reduction requirements."
Using this theory, ANY action the United States might take to reduce gasoline consumption - from using more ethanol to increasing vehicle fuel efficiency - will result in INCREASED gasoline use elsewhere in the world. So, it makes no sense. As Renewable Fuels Association president Bob Dinneen puts it, "Whatever environmentalist activists call this new theory, I call it nonsense."
Near as I can tell, this theory was proposed in August of last year by Steven Stoft, founder of the Global Economic Policy Center. In something he wrote called, "Corn Whiskey vs. the Climate," Stoft says, "More ethanol use causes less oil to be imported, which causes a lower world "oil" price, which causes more liquid-fuel use worldwide. This same effect applies to conserving oil as well as to replacing it with ethanol, or even to pumping more oil from Alaska."
Perhaps the environmentalists have come up with this new theory as another rabbit for EPA to chase now that ILUC is getting tired, but this is seriously crazy talk. Does this mean we should not bother trying to reduce our use of oil at all? If someone can explain the reasoning here, I would love to hear it.