Posted By Cindy May 27, 2009
It has never been more important for supporters of corn ethanol to set the record straight and make their voices heard.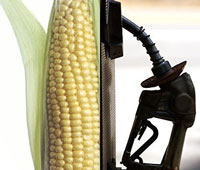 Here is a perfect opportunity. A Business Week editorial by Ed Wallace posted yesterday is crying out for comments. "The Ethanol Lobby: Profits vs. Food" presents a re-hash of all the same tired arguments against ethanol - from food versus fuel, to cutting down rainforests, to excessive water usage, etc.
One new criticism I found especially slanted was that states like Indiana and Nebraska don't support the use of E85 because, in the writer's opinion, they don't have enough E85 stations. He ignores the fact that of the 2000 E85 stations in the country, nearly 1300 are located in the corn belt. I have already commented on this article - corn growers need to do so as well.
The National Corn Growers Association last week called on all those interested in the future of U.S. corn to help the association set the record straight about false attacks on the corn and ethanol industry. NCGA President Bob Dickey said, "Now, more than ever, we need an team of 300,000 proud U.S. farmers who grow corn to defend our way of life and stand up to these false attacks now and always in order to win the debate." NCGA has also provided an on-line resource for growers to utilize in getting facts to back up their opinions.
One of the ways NCGA suggests is writing letters to the editors of local weekly and daily newspapers as frequently as possible. I would add that searching out and commenting on anti-ethanol articles posted on line is important as well. Unlike writing to local newspapers, most on-line comments are published without delays or editing. You can also engage other commenters in discussion and challenge their opinions. If even half of our 300,000 proud U.S. farmers would take an hour a week on their computers to search for stories about ethanol and make comments, it would make a significant impact.
Speaking of comments, the Environmental Protection Agency has officially opened a 60-day comment period for proposed changes to the Renewable Fuel Standard. The comment period will be open until July 27. Corn growers are strongly urged to make their voices heard on this important issue for the ethanol industry. In addition, the comment period on the proposal to allow an increase in the amount of ethanol that can be blended into regular gasoline has been extended to July 20.
This may be a busy time of year for many farmers, but it is worth it to take some time and fight back to win the debate over corn and corn ethanol.