Posted By Cindy April 26, 2011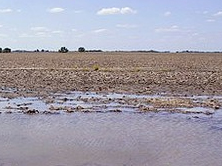 After getting off to a good start, planting has slowed down around the corn belt, thanks to cold and wet weather. USDA showed progress at eight percent, just a point below normal for this time of year, but way behind last year's swift pace of 16 percent. Only two states are showing planting ahead of normal right now and they are Missouri and Kansas - both of which made excellent progress last week.
While there is nothing to be concerned about yet, the markets were happy to react early in the week on fears that the delays will reduce yields. That can certainly happen, especially if these cool soil temperatures continue and emergence is delayed. Kansas State University extension specialist Craig Roseboom says if just one out of six plants is delayed by two leaf stages, yields could be reduced by 3-4 percent. "They're not huge yield reductions, but prices are good and even a three percent yield reduction at 200 bushel corn, that's $36 an acre in terms of potential gross receipts," Roseboom says.
But, the forecast is looking better, at least according to the markets which took a dive later in the week on that good news. With as fickle as the weather has been lately, it is certainly way too early to make any predictions about how this planting season will end up. Just keep praying that the good Lord is willing and the creeks don't rise.