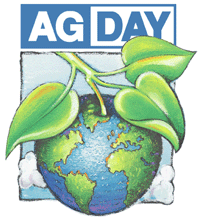 It's that special day of the year when we have a chance to thank America's farmers and ranchers for all they do to help feed us and the world. You can find lots of good facts and figures on the National Ag Day website which is coordinated by the Agriculture Council of America. For example:

From a team of horses in the early 1900s to tractors with the power of 40 to 300 horses today, American farmers provide consumers with more and better quality food than ever before. In fact, one farmer now supplies food for about 144 people in the United States and abroad compared with just 25.8 people in 1960.
The efficiency of American farmers pays off in the price American consumers pay for food as well. U.S. consumers spend roughly 9 percent of their income on food compared with 11 percent in the United Kingdom, 17 percent in Japan, 27 percent in South Africa and 53 percent in India. This great value is due in large part to improved equipment efficiency, enhanced crop and livestock genetics through biotechnology and conventional breeding, and advances in information management.
Today's farmers understand the importance of improving the quality and quantity of food available to the world. According to the US Census Bureau, it is estimated that there will be 7.5 billion people in the world by the year 2020 (we're currently at 6.2 billion). It's agriculture's job to find a way to feed those people. Advancements in crop technology, equipment technology and information management will make that possible. American farmers and others involved in the agriculture industry have met and will continue to meet this challenge again and again.

Guess what? American farmers will continue to improve and increase food production while improving the environment and helping fuel the world.
Thank you America's corn growers and farmers of all commodities for all you do!