By Cindy
Posted: June 24, 2008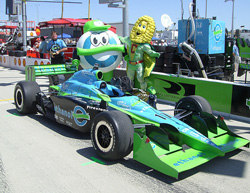 Sunday was "Proud to be a Midwestern Corn Grower Day" during the telecast of the Iowa Corn Indy 250. The only thing that would have made the day better would have been the Team Ethanol car in the winner's circle. But Ryan Hunter Reay certainly gave it a good go.
Just about every other commercial during the race broadcast was one from the corn growers and they were excellent spots. I also loved the opening "start your corn ethanol-fueled engines" heralded by Iowa Corn Promotion Board chairman Julius Schaaf.
The spot below is my personal favorite from the race, featuring corn growers proclaiming they are proud to be America's feed, food and fuel providers. GO Corn!!!
Check out all the photos from the race and pre-race activities here:
Iowa Corn Indy 250 Photo Album
For audio and video interviews and overall coverage of the Iowa Corn Indy 250 - check out this link to Domestic Fuel.