By Chuck
Posted: August 26, 2008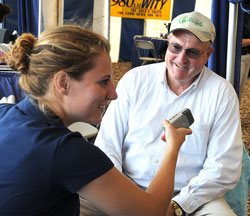 Corn growers by the car and truck load are attending the Farm Progress Show in Boone, IA. Helping me do some work here is Laura McNamara, a freelance farm media specialist. She got to sit down with an NCGA leader this morning.

There's a lot the National Corn Growers Association is looking forward to in the next few months. I caught up with Bob Dickey, First Vice President of the association, at the 2008 Farm Progress Show in Boone, IA today. He says corn growers are counting on good weather, a good harvest and a good relationship with the new Secretary of Agriculture who'll be named after this year's Presidential election. In the meantime, Bob says representatives from the 33,000 member organization are on site here at the Farm Progress Show to get out their grassroots message:
"Our mission is to create and increase opportunities for corn growers," Bob said.
A lot of those opportunities have come from ethanol in recent years. Bob says ethanol technology is continually progressing. Cellulosic technology is proving to be the newest frontier in the industry and Bob says, the National Corn Growers Association is behind cellulosic development 100 percent.
"We get behind the cellulosic industry because that will help enhance the overall industry," Bob said. "And so we're very supportive of what's going on in the cellulosic side of the ethanol industry, whether it be switchgrass, sweet sorghum, alfalfa, wood chips, corn stalks, corn cobs, whatever. We're excited."
I interviewed Bob about what he feels are the important issues for corn growers. You can listen to my interview with Bob here: