By Cindy
Posted: August 29, 2008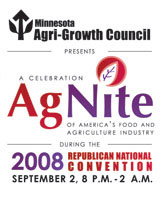 Agriculture will be in the spotlight for thousands attending the Republican National Convention next week.
The Minnesota Agri-Growth Council is hosting AgNite, a celebration of America's food and agriculture industry, Tuesday, Sept. 2, 2008, during the second night of the RNC in the Twin Cities. The evening event will showcase the food, agriculture and energy industries in a unique and exciting club atmosphere in the historic Minneapolis Depot's impressive 60,000-square-foot venue. Guests will also experience some of the best networking, food, drink and entertainment in town.

AgNite is a non-partisan invitation-only event that will include over 3,000 guests, delegates, policymakers, news media and industry leaders. The event is being made possible by dozens of sponsors from Minnesota and across the country, including the Minnesota Corn Growers.
AgNite is basically taking the place of "The Great American Farm Breakfast," which is normally held at the RNC but for some reason was canceled this time.