By Cindy
Posted: May 19, 2009
Representatives of agribusiness in St. Louis pitched the importance of the Show Me state and the Bio Belt at the 2009 World Ag Congress Tuesday.
Novus International, the National Corn Growers Association (NCGA), the American Soybean Association (ASA), and the University of Missouri were among those touting Missouri's unique agribusiness climate and characteristics. NCGA Director of Biotechnology and Economic Analysis Nathan Fields said they were proud to call St. Louis home, which gives them a grassroots perspective.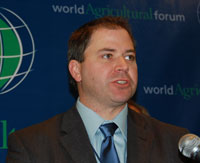 I talked with Nathan about the World Ag Congress and how the corn growers are working on the missions of sustainability and feeding the world. "We feel that U.S. corn production is a model system for the world," he said. "We we have the greatest efficiency in production and we think that we have a lot of information that we can impart internationally to promote the technology that we use to increase productivity."
You can listen to my interview with Nathan here: