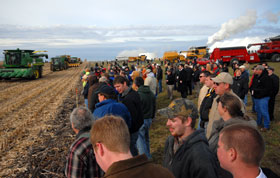 The corn cob harvest was making progress in Emmetsburg, Iowa.
During POET's Project LIBERTY Field Day, 16 companies showcased equipment to help farmers make the process of harvesting corn cobs and residue quick, easy and profitable. Project LIBERTY is POET's planned 25 million-gallon-per-year cellulosic ethanol plant in Emmetsburg.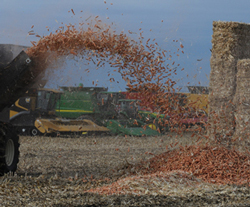 Among the many farmers who turned out to watch the demonstration was Myron Bruhn of Cylinder, Iowa. "I think it's a good deal for the farmers if they can make ethanol from the cobs," he said. "Ultimately, if we can make money doing it, it will be able to fly. If we can't make money on purchasing the equipment and getting paid for the cobs on a two or three year return, there won't be too many farmers trying it."
Cobs will be the primary feedstock for the Project LIBERTY plant and agriculture equipment manufacturers are working to ramp up production of cob harvesting equipment. Some farmers may be eligible for federal funding from USDA or the Department of Energy to help purchase the new equipment.