By Cindy
Posted: January 22, 2010
Thanks to the "Blend Your Own" BYO Ethanol campaign, motorists in Sioux Falls, SD now have more fuel choices at the pump with the installation of four new ethanol blender pumps at a Kings Mart gas station in the city.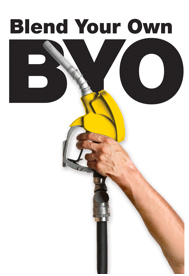 Through a joint effort between the American Coalition for Ethanol (ACE) and the South Dakota Corn Utilization Council (SDCUC), the station now offers a variety of fuel blends including unleaded gasoline and E10, and E30 and E85 for Flexible Fuel Vehicles (FFVs).
"This a huge accomplishment for the corn and ethanol industry to unveil a blender pump in Sioux Falls. Corn farmers take great pride in helping to produce over a billion gallons of ethanol in our great state, and installing infrastructure like this moves our industry in the right direction," said David Fremark, President of the South Dakota Corn Utilization Council.
The BYO Ethanol campaign was launched last year as a partnership between ACE, the Renewable Fuels Association, the National Corn Growers Association and leading corn-producing states such as South Dakota. The campaign works to show gas station owners the benefits of blending ethanol and using blender pumps to provide choices for motorists.
The Sioux Falls blender pump location joins 40 other locations across South Dakota and around 150 nationwide. ACE offers an on-line map of blender pump sites.