By Cindy
Posted: March 3, 2010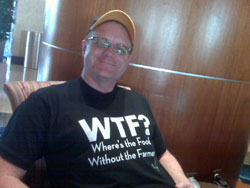 To commemorate the start of the 2010 Commodity Classic, Agwired's Chuck Zimmerman wore his WTF t-shirt on the trip out to California.
WTF stands for Where's The Food, Without The Farmer? and Chuck got lots of attention from people in the airport, on the plane and in the hotel. Since he tweeted it before we left Kansas City, it was picked up and re-tweeted enough that a number of people in California had already seen it before we arrived! Photo credit goes to Tricia Braid Terry of the Illinois Corn Growers.
Buy your own WTF t-shirt from I Love Farmers, They Feed My Soul - which is appropriate for the Commodity Classic in Anaheim, since it was started by students at Cal Poly. They have a great website and it is a great effort to support - so if you have not been there yet - check it out today!
We love farmers. They feed our soul. Together we are working to help our generation understand the importance of knowing where our food comes from and who produced it.
We're not your typical "who cares" kind of young people from the Millennial Generation. Sure, we all have cell phones and we text like crazy. We have iPods and spend way too much time on Facebook and MySpace, but we care about our planet. We care about our country. We care about the American family farmer.