By Cindy
Posted: May 24, 2010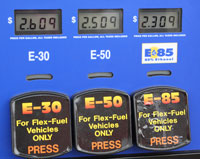 Flex-fuel vehicle (FFV) drivers in central Illinois have more choices at the pump now thanks to a blender pump just installed in Sullivan, Illinois. The pump is the first of 20 planned in the state under a pilot program approved by the Illinois Department of Agriculture with support from the state Department of Commerce and Economic Opportunity, the American Lung Association of the Upper Midwest and the Illinois Corn Marketing Board.
During the official ribbon cutting ceremony, state officials and corn grower representatives addressed the success story of Illinois corn farmers and the Illinois ethanol industry partnering with petroleum marketers to increase consumer choice. "We're excited to see this blender pump in Sullivan," said Jim Rapp, Illinois Corn Marketing Board Chairman and a corn farmer from Princeton, IL. "Consumers deserve a choice and the opportunity to choose the fuel that best fits their needs and their pocketbook."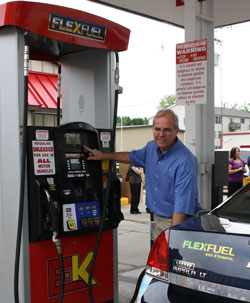 Past National Corn Growers Association president Leon Corzine, a grower from Assumption, Illinois, was one of the many who were at the promotion offering discount pricing on ethanol blended fuel and $10.00 E85 coupons for FFV owners.
E-K Petro Mart owner Jon England received a $20,000 grant for participating in the Blender Pump Incentive Pilot Program. Each two-sided pump offers both regular unleaded gas blended with 10 percent ethanol plus a flex-fuel option that dispenses E85, E50, or E30 for E85-capable FFVs by blending regular unleaded gasoline with E85 from a second tank. "It's nice to have a choice," England said. "Somebody can come in and pick the product that best suits their economic situation."