By Guest Blogger
Posted: June 3, 2010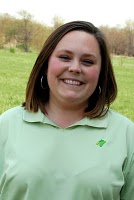 Facts are stubborn things" says Guestblogger Lindsay Mitchell, Project Coordinator for the Illinois Corn Marketing Board.
 The Illinois Corn Marketing Board is part of the Corn Farmers Coalition  along with other state corn grower groups and the National Corn Growers Association.  Earlier this week, we launched a new phase of our educational campaign that started last year. The goal is to let policy makers – and those who influence them – from think tanks to environmental groups in Washington, DC  - know corn farmers really are environmental stewards, conscious about food safety, and enjoying every minute of life on the farm with their family at their side.
 We covered the launch on our website if you'd like to read more.
 The thing is, the Environmental Working Group is calling our campaign "Greenwashing," meaning that we're trying to paint our industry as a green industry even though it's not.  Well, call me old fashioned, but when someone I love is attacked, it ruffles my feathers a bit and this blatant disregard for facts just doesn't sit well with me.
 The FACT is farmers are green. 
 CFC ads report data like "Thanks to new, innovative fertilization methods, today's American corn farmers are producing 70% more corn per pound of fertilizer."  That data comes straight from the USDA and that data reflects an industry that is conscious of what they are using and placing on the land in their care.  Show me another industry that is so environmentally conscious or has such a great story to tell.
 The FACT is farmers are operating family (not corporate) farms.
 I'll speak from experience here; I know a lot of farmers.  Every single one of them is just a regular, down home guy – the sort that would wave at a stranger from the cab of their pick-up truck, the sort that would stop and help you if you had car trouble, the sort that jumps from the tractor to the shower and speeds into town to watch their son's t-ball game or their daughter's dance recital. 
 EWG says that "There are thousands of large, plantation-scale corn factories dotting the American landscape, family-owned or not.  And family ownership does not necessarily equal small.  Agricultural supply giant Cargill is family-owned.  So are the Pittsburgh Steelers and the Minnesota Twins."
 To compare the family farm I grew up on to the Minnesota Twins is the most absurd thing I've ever heard.  My dad farms a lot of acres – some his own, some his brothers, and some his neighbors that retired from farming.  To the local farmer's market consumer, I know he looks like a plantation owner.  But he's the one driving the tractor.  He's the one stressing over marketing decisions.  He's the one dealing with environmental regulations that EPA bureaucrats decide are relevant.  He's the one trying to make his small business work with only the help of wife at home to support him and his dad at the end of the row to bring him a drink.  I doubt Cargill and the Minnesota Twins are operated in the same manner.
 And he's not unique.
 The FACT is farmers are using less land, not more.
 EWG says that "According to a National Wildlife Federation report this year, the corn ethanol gold rush has been responsible for plowing up thousands of acres of pristine wildlife habitat (and prime carbon sequestration vegetation) and converting it to corn production."
 Well, I suppose that depends on who you feel is the authority.
 Our federal government (the USDA), who runs the Conservation Reserve Program (CRP) indicated that from 1982 to 2007, cropland acreage declined from about 420 million acres to 357 million acres.  CRP, or acres returned their natural state, reflects more than half of that diverted acreage. 
 There are multiple other facts that EWG has gotten wrong, but you can read those for yourself.
 At the end of the day, I'd say the only "greenwashing" we're trying to accomplish is to make every other industry in the country green with envy at the wholesome, slow-paced, family environment in which we get to work and the fabulous story we have to tell about corn farmers that are conscious stewards of the land.
 Eat your heart out, EWG.
You can read more from Lindsay at the CornCorps blog  - http://corncorps.blogspot.com/