By Mark
Posted: September 22, 2010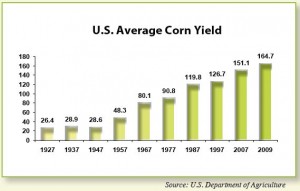 During the 2008 food price scare corn found itself squarely in the crosshairs of public indignation. Technically it was the growing use of corn for ethanol fuel that fanned the flames and coined the phrase "food vs. fuel."
 Then the public ire moved to the soaring cost of petroleum as the true culprit. And that was partially right too. Many experts ultimately said a combination of  factors caused the jump in food prices. (Corn prices were near the bottom of the list). Problem was the explanation was months late and the media attention was wimpy at best. Corn and ethanol had been tarred and feathered and the damage done.
The cheap corn mafia led by the Grocery Manufacturers Association eventually confessed, albeit in a whisper, ethanol was one of seven factors having a role in higher food prices. Even the World Bank, the culprit that leaked an erroneous report triggering food vs. fuel, later said "the effect of biofuels on food prices has not been as large as originally thought, but that the use of commodities by financial investors (the so-called "financialization of commodities") may have been partly responsible for the 2007/08 spike." 
Once again we see corn prices on the rise, topping $5 a bushel last week, and talk about food shortages and skyrocketing grocery bills popping up.  This time oil prices are relatively high but stable so what the heck is going on?
Once again probably more than meets the eye but this we do know; the rally has been fueled by USDA forecasts of smaller U.S. corn yields than expected and reports of drought losses in Russia's wheat crop.
Hafez Ghanem, Assistant Director-General for Economic and Social Development with the United Nation's Food & Agriculture Organization offers some important perspective: "The market fundamentals are sound and very different from 2007-2008. Despite the shortfall in Russia's wheat production, this year's cereal harvest was the third highest on record and stocks are high.  Under these conditions we don't believe that we are headed for a new food crisis, but we will continue monitoring the situation closely."
Other key points that should help keep irrational fear at bay:
Even if the U.S. corn crop is reduced further we will still be harvesting the 8th record corn crop in the last 8 years. We will have a carryover of ending stocks of 1.1 billion bushels.
World wheat stockpiles are expected to be 174.8 million metric tons in the 2010-11 season, comprised of local marketing years, according to the U.S. Department of Agriculture. That's 40 percent more than in 2007-08."
Last month USDA reported food price increases in 2010 would be minimal. The Consumer Price Index for all food increased 1.8% in 2009 and is forecast to increase 0.5 to 1.5% in 2010.
Future prospects for corn supply and ethanol look good. Ethanol production tripled from 2002-2009. During the same time period, corn production met increased demand from ethanol and produced an additional 21% more corn for other needs.