By Chuck
Posted: October 12, 2010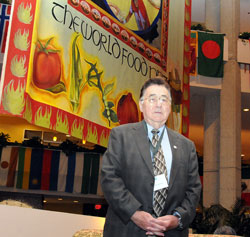 The participants in the Truth About Trade and Technology Global Farmer To Farmer Roundtable started their day at the Biodiversity World Tour town hall meeting with Sec. of Agriculture Vilsack. Before we departed for the meeting on the campus of Iowa State University I spoke with Chairman, Dean Kleckner.
He says that there are 16 farmers here this year from various countries including the United States, to have a discussion on farming where they live, and to do it in a public forum to foster better understanding between countries and the general public. He's says it has been interesting to hear how similar the challenges are throughout the world. I'm planning to feature some interviews with the farmer participants during the next couple days.
You can listen to my interview with Dean here:
Photos will be posted to the TATT Global Farmer To Farmer Roundtable Photo Album.