By Cindy
Posted: June 24, 2011
A new exhibit slated to open in September at the Indiana State Museum will tell the "amaizing" story of corn, "the most productive domesticated plant and the greatest plant breeding achievement of all time."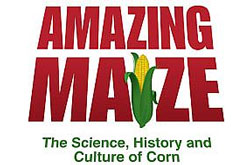 "Amazing Maize: The Science, History and Culture of Corn,"
opening September 24, "will take visitors on a journey through the centuries, beginning with corn's unlikely origins in a small-eared bushy plant called teosinte. Visitors will trace the global spread of the crop following Christopher Columbus' travels, including its social impact in Africa and Europe. Then they will return to the shores of America to explore the push to improve productivity and the rise of hybrid corn. The final stop on the journey will highlight the modern technology used to improve and grow this most important crop."
Divided into six sections, "Amazing Maize"will be full of videos and interactive pieces that will appeal to kids and adults alike. Visitors can test a specialty corn-based starch that keeps products dry, or try their hand at a wooden corn pounder that requires more than a little muscle. They can sit on a 1900s-era "corn gospel train" and listen to the nation's first agronomy professor, P.G. Holden, reveal his secrets for increasing corn yields. Fast forward to the modern day and visitors can check out the latest in production technology from the seat of a Case IH combine simulator.
"Indiana corn farmers are excited to see the Indiana State Museum tell the story of a crop that has been so integral to not only our rural communities, but our state as a whole," said Jane Ade Stevens, executive director of Indiana Corn Marketing Council, local presenting sponsor of Amazing Maize.
Those who visit "Amazing Maize"will never think of a field of corn as "ordinary" again. Instead, they will see the plant for what it truly is: the result of an extraordinary story about humankind and its ingenuity.
The exhibit will cover 5,000 square feet and run for a year at the museum, with plans in the works for a smaller exhibit that will travel nationally. Sounds like something everyone should see.