By Cindy
Posted: May 20, 2013
There was lots of activity of interest to corn farmers last week - both on The Hill and in the field.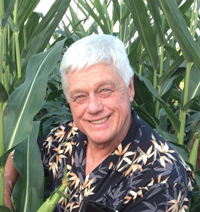 I caught up with National Corn Growers Association Chairman Garry Niemeyer of Auburn, Illinois on Friday as he was busy playing catch up on planting progress. "We are probably about a fourth done with planting corn," Garry said. "We normally are finished planting corn by the middle of April." He added that since June 1 is the cutoff date for crop insurance they still have quite a bit of time to get a crop in and "everybody here is feverishly working." While it has been the longest cold, wet spring that he can remember, Garry says it has really warmed up now in the Midwest and he thinks the corn will probably "come flying out of the ground" now.
Up on Capitol Hill last week, as so many like Garry were busy in the field, two pieces of legislation very important to farmers made significant and long-awaited progress. One was the passage of a new five year farm bill through both the House and Senate Agriculture committees. However, Garry is quick to note that we are still no further along on a new bill than last year at this point. "We never got a House bill to the floor (last year)," Garry noted. "I'm going to hope that the House finishes up, then they go to conference and we get a reasonable bill which will help all American farmers."
Meanwhile, the Senate finally passed the Water Resources Development Act (WRDA) last week, paving the way for upgrades to the inland waterways system important for farmers. "It's been a long time, since 2007, since we've had a WRDA bill and back before 2000 they used to have a WRDA bill every other year," Garry says. "Now we just need the funding to get these project moving forward."
Of specific interest to corn farmers, the bill contains provisions to remove the over-budget and long-delayed Olmsted lock and dam project from the Inland Waterways Trust Fund (IWTF), the remainder of the cost to be paid 100 percent by general treasury revenue and not cost-shared 50-50 through the IWTF. This action will free up around $750 million to the IWTF to complete critical priority navigation projects. An increase in the threshold for major rehabilitation, from the current $14 million to $20 million, was approved.
The bill now goes to the House for approval and Garry says they are encouraging farmers to call their representatives in Congress to tell them how important this legislation is to them.
Listen to Garry's comments here: NCGA Chairman Garry Niemeyer