Posted By Cindy August 19, 2014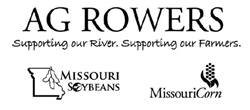 Missouri corn and soybean growers were rowers last week in an effort to raise awareness of the importance of river transportation for agriculture.
The Missouri Corn and Soybean Rowers, also known as the Ag Rowers, spent nearly 77 hours last week paddling their tandem kayak across the state from Kansas City to St. Charles in the Missouri American Water 340 (MR340). The Ag Rowers are sponsored by the Missouri Soybean Merchandising Council (MSMC), Missouri Corn Growers Association (MCGA) and industry partners, including NCGA.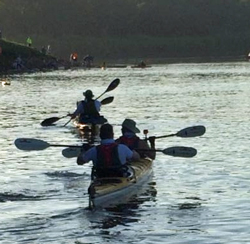 Teammates MSMC Executive Director Gary Wheeler and MCGA Director of Public Policy Shane Kinne joined fellow paddlers and spectators to test their physical abilities and highlight the river's relationship with Missouri agriculture. They were among 283 registered kayaks and canoes at the start of the race.
"It was an honor to compete and complete this race representing Missouri farmers," Kinne said after they landed their kayak on the river bank in St. Charles. "Our goal in competing was to bring some awareness to the benefit of the river to Missouri agriculture. It is a vital resource for corn growers, whether it is transporting grain and other ag products or providing the rich bottom ground needed to grow crops to help feed the growing population."
Wheeler and Kinne were the 119th boat to cross the finish line after hitting all nine race checkpoints within the allotted time frame. Competitors are allowed 88 hours to paddle the 340 mile course and must finish by midnight tonight.
"Participating in the MR340 provided a unique opportunity to connect with others who share a passion for the river and to highlight the important role this river plays in Missouri agriculture and our state's economy," Wheeler said. "It is important we work together to maintain this valuable resource for the benefit of all Missourians - for agriculture, transportation, and recreation, among other uses."