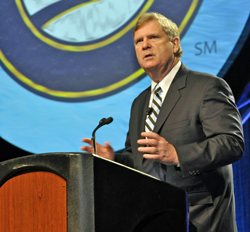 As long as he has been Secretary of Agriculture, Tom Vilsack has made it a priority to address the annual Commodity Classic, so for the fifth time he took the stage last week at the event in front of a record crowd of more than 7,000.
"It is awfully nice to come here today to talk about the PASSAGE of a farm bill, as opposed the need for a farm bill," Vilsack began, adding that people don't thank farmers enough for the work they do, especially considering how vital they are in the food, energy and economic security America enjoys. In return, the U.S. Department of Agriculture is charged with making sure the implementation of the Farm Bill translates into hope for all farmers, old and new alike. "Our Farm Bill, which you helped pass, for me creates a hopeful set of opportunities and rewards, and will invest in innovation."
While he did not mention the Renewable Fuel Standard (RFS) specifically during his address, Vilsack did talk about the need to increase exports of ethanol. "We think the world is ready for American biofuel," he said. Secretary Vilsack at Commodity Classic
The Secretary did meet with farmer leaders at the Classic and discussed the pending EPA proposal to lower the RFS volume obligations this year and he was asked about his discussions with EPA Administrator Gina McCarthy during a press conference following his address. "I have focused not simply on talking to her and repeating what she's getting from comments about people's attitudes about this, I'm looking for ways that we can help this industry regardless of what EPA does, because I think it's critically important," said Vilsack.
That includes not only promoting exports of ethanol to countries such as India, China and Japan, but also finding ways to add infrastructure. "Congress sort of closed one door by saying we no longer could use the REAP program for pumping systems… but there are other rural development programs so we'll just be creative about using the other programs until Congress decides to shut that door," he said.
Vilsack stressed that he will continue to do everything he can to help the biofuels industry and "trust that EPA at the end of the day makes the right set of decisions."Vilsack Classic Press Conference