By Cindy
Posted: May 16, 2014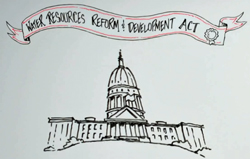 The long-awaited Water Resources Reform and Development Act (WRRDA) conference report was released by House and Senate negotiators on Thursday, to the great relief of agricultural interests and others who wondered if they would ever see the day.
Conference committee member Congressman Rodney Davis (R-IL) is pleased with the final outcome. "The conference report I believe is a well balanced piece of legislation that takes into consideration the Senate needs and the House needs," Davis said. "I'm just excited to get this bill across the finish line - the first one since 2007."
The legislation is designed to "strengthen the nation's transportation network, keep America competitive in the global marketplace, and reform and streamline the way we move forward with improvements to our ports, locks, dams, and other water resources infrastructure." Davis expects the conference report to pass both houses of Congress with little opposition. "And we'll chalk it up as a success in bi-partisanship and move on to other work that we've got to get done," he added. The legislation is expected to come to the floor next week.
Listen to our interview with Rep. Davis here: Rep. Rodney Davis interview on WRRDA