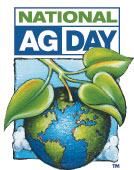 If there ever was an American success story, it is agriculture.
Agriculture Secretary Tom Vilsack is fond of talking about how today's farmers and ranchers make it possible for people like him to be a lawyer, or for any of us to pursue any career, because we don't have to worry about the production of our own food. Just think about that for a minute. The progress of civilization has meant that less and less people have to produce their own food. But there are some people who look at farmers as "Old McDonalds" who have become "Big Ag" and care nothing for the environment or the people they feed.
A video published recently to YouTube by a group called Only Organic attacks the good farmers and ranchers of this country in a most repugnant way, using children to basically accuse them of crimes against nature. Singing the Old McDonald kids song with lyrics about pesticides and GMOs and hormones and antibiotics, these children were fed a diet of fear and hate by agenda-driven adults. It's scary and sad.
In response to the video, a diverse group of farmers representing all types of production practices responded with one voice during an Only Organic Twitter party last week to "celebrate the video". According to U.S. Farmers and Ranchers Alliance CEO Randy Krotz, what happened was that both conventional and organic producers criticized the video for being misleading and unfair. And they used dialogue to share what happens on their individual farms and called for an end of "farmer bashing".
"We have farmers that grow both organic and conventional crops," said Krotz. "It's concerning to see people trying to demonize today's agriculture and promote only their type of food production."
Krotz says they are reaching out to Only Organic and food companies that support the organization to engage in dialogue rather than attacks. "Farmers and ranchers have the tools to tell their stories, even in hostile environments," he said. "And organic and conventional farmers who respect each other are beginning to work together to make sure that truthful information gets to consumers."
It's hard to believe that such a successful American industry which literally feeds the world can be so constantly and relentlessly attacked by critics who think they can do it better. Ironically, it is because of the success of our food production system that they have the time to sit around and complain about how their food is produced.
National Ag Day and everyday we should sing the praises of farmers and ranchers to drown out the noise of those attacking them with mouths full of hate and fear.