Posted By Cindy January 28, 2008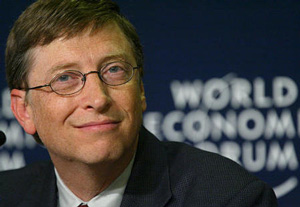 In the spirit of "teach a man to fish," the Bill & Melinda Gates Foundation announced Friday that it would greatly increase agricultural grants designed to reduce hunger and poverty in Africa and South Asia.
"If we are serious about ending extreme hunger and poverty around the world, we must be serious about transforming agriculture for small farmers," Bill Gates, co-chairman of the foundation, said at the World Economic Forum in Davos, Switzerland.
The new funds include grants to help improve soil quality and yields, assist research on hardier rice strains, provide better irrigation methods to small farmers and help develop superior coffee beans for export.
Gates said he regretted that support for agriculture in the developing world had been relatively neglected by his foundation but noted that it is a critical tool to drive development in rural areas.
It's refreshing to see that kind of talk and action. All too often American do-gooders tend to take the "give a man a fish" approach and feed him for just a day. This kind of financial support has the potential to really make a difference by giving a hand up instead of just a hand out.