Posted By Chuck October 7, 2010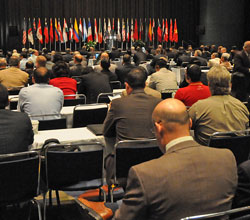 The Export Exchange 2010 is taking place in Chicago, IL. This event brings in international buyers and U.S. suppliers of DDGS and coarse grains. The attendance has met if not exceeded expectations. There are nearly 500 attendees, with about 180 of them coming from another country and there are 33 countries represented.
On hand is the President/CEO of the National Corn Growers Association, Rick Tolman. I asked Rick what he thought about the conference and its importance to the industry. Rick says it's critically important and that the DDGS export market is one of the bright spots in the industry.
You can listen to the interview with Rick here: