Posted By Cindy July 20, 2011
These days, volatility is becoming the norm rather than the exception when it comes to commodity prices.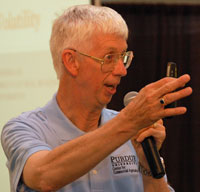 "I mean, when you lose about a buck off the price of corn in two days - that used to be the price of corn, a buck, and we lost that in two days," said Dr. Mike Boehlje, agricultural economist with Purdue's Center for Food and Agricultural Business.
"We are seeing volatility at an unprecedented level in terms of fluctuations in prices of our products," Boehlje noted. "But on top of that we see volatility that we've never experienced in the past in our costs. Put those two together and we have margin - the difference between price and costs - that is up 4-5 times in terms of its fluctuations."
Dr. Boehlje told farmers at a recent corn strategies field day that they need to have a strategy to deal with this unprecedented volatility, and his main piece of advice is to determine their cost of production per bushel, not per acre. "That's what you sell, you sell bushels," he said. "Knowing your costs is a critical part of any successful business, whether it be manufacturing widgets, or automobiles, or corn." He says farmers need to use that business practice to do a better job of managing margins in today's turbulent times.
Listen to some comments from Dr. Boehlje here: Dr. Mike Boehlje