By Cindy
Posted: May 18, 2010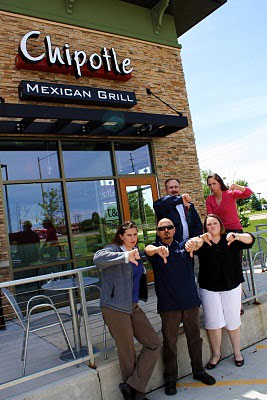 Illinois corn growers are among many in the agriculture industry taking a stand against Chipotle for its support of the Humane Society of the United States (HSUS). As they point out in a post on "Corn Corps," Chipotle is supporting HSUS efforts to regulate animal agriculture in Ohio:
Chipotle is a corporate sponsor for their effort. They are allowing ballots to be placed in their stores throughout Ohio to make it easier for unsuspecting patrons to vote in their favor, bringing us one step closer to ending animal agriculture in the United States.
There are now at least two Facebook pages calling for Chipotle to end its support of HSUS with about 1,000 fans each.
The question is - will it do any good? As agricultural journalist Trent Loos points out in a comment on one of the fan pages, "I do not want to dampen anyone's spirits here but I will tell you I chased this rabbit two years ago. Owner Steve Ells agrees with HSUS rheotric and does not even eat meat himself. The best you are going to do is NOT go there and tell you friends and neighbors there are good alternatives." To get an idea of where Ells stands, check out his testimony in support of the Preservation of Antibiotics for Medical Treatment Act. There is a prominent link to this from the main page of the Chipotle website.
Chipotle wants to appeal to the market segment that wants organic food, promoting that fact on its own Facebook page. "That's why we serve meats raised without antibiotics or added hormones. And it's why we buy local and organic produce when we're able. And why we prefer to work with small family farms that raise their animals responsibly and humanely."
That's fine, if that's what they want to do and how they want to position themselves in the very competitive chain restaurant market. The problem is they believe that if Chipotle can do it, all restaurants can - and, more problematic, SHOULD. That's where we draw the line, so it's important for people who do not think that way and do not want to support the HSUS agenda to be aware of it. Yes, we should find some place else to get our burritos if we feel this restaurant chain is actively working against our industry - and we should inform others about it. But, it is doubtful we are going to change their minds if there is a market segment that responds positively to that agenda and will patronize them because of it.
So, boycott away - but changing their minds may be like trying to convince HSUS that cage-free chickens is a dumb idea.